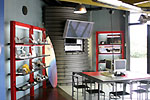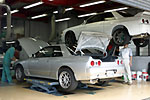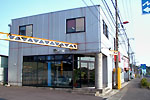 Mine's started as a specialized tuning shop in May 1985 and evolved into Mine's Wave Corporation in 1991.
The Mine's primary business is research and development and the manufacturing of automobile aftermarket performance parts. Among the Mine's product line-up is their signature brand, the Mine's VX-ROM (re-programmed computers). Highly respected in the industry as a leader in computer tuning, Mine's has perfected the synergy between performance parts and the enhancement of the ECU to create the perfect performance car.
"Simple, Beautiful, & Fast" is the fundamental philosophy Mine's embraces since they began business. Mine's high performance street Skyline GT-Rs have been featured in many magazines and DVDs. The philosophy Mine's embraces is to create a perfectly tuned vehicle that is extremely fast, highly reliable, and comfortable on the track as well as on the street. Mine's believes in the purity of the vehicle and the vehicle's style. That is Mine's tuning.
As an authorized U.S dealer, Performance Partners International LLC is committed to expand the Mine's Wave Brand presence and philosophy throughout the USA.
Mine's Address 5-7-25 Hayashi, Yokosuka-shi, Kanagawa-ken, Japan 238-0315
Website http://www.mines-wave.com/

Mine's Japan English website http://www.mines-wave.com/E_09/index2_E.html